CASEL
The Michigan Model for HealthTM (MMH) is approved as an effective CASEL Program (Social and Emotional Learning Program by the Collaborative for Academic, Social, Emotional Learning). CASEL is a trusted source for knowledge about high-quality, evidence-based social and emotional learning (SEL). The MMH is included in the CASEL Guide: Effective Social and Emotional Learning Programs which provides a systematic framework for evaluating the quality of classroom-based SEL programs. It uses this framework to rate and identify well-designed, evidence-based SEL programs with potential for broad dissemination to schools across the United States.
CASEL SELect Program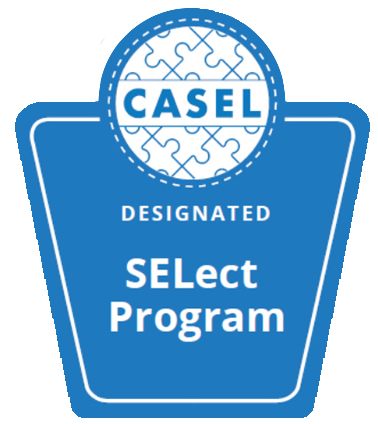 The Michigan Model for HealthTM elementary curriculum is a CASEL SELect Program approved for Grades K-6. The evaluation supported evidence of program effectiveness with the outcome of increased positive social behavior, reduced conduct problems, and substance abuse prevention.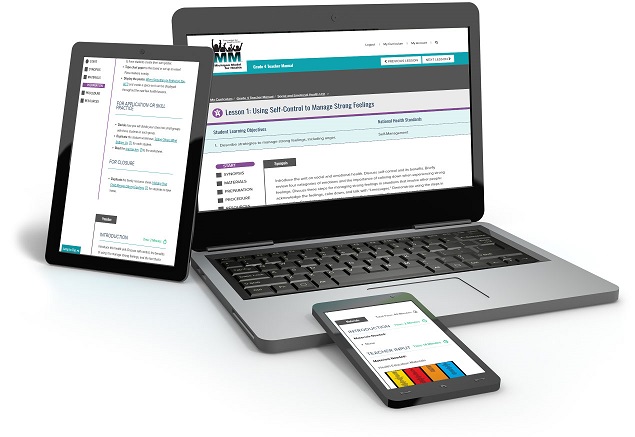 The Michigan Model for HealthTM meets CASEL's program research criteria:
Well-designed classroom-based programs that systematically promote students' social and emotional competence, provide opportunities for practice, and offer multi-year programming.
Deliver high-quality training and other implementation supports, including initial training and ongoing support to ensure sound implementation.
Evidence-based with at least one carefully conducted evaluation that documents positive impacts on student behavior and/or academic performance.
CASEL Promising Program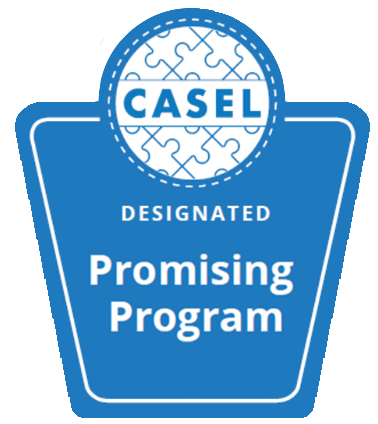 The Michigan Model for HealthTM middle school curriculum is a CASEL Promising Program approved for Grades 7-8. The evaluation supported program effectiveness and found that compared to students in the comparison group students who participated in the program reported lower frequencies of using drugs and alcohol at post-test.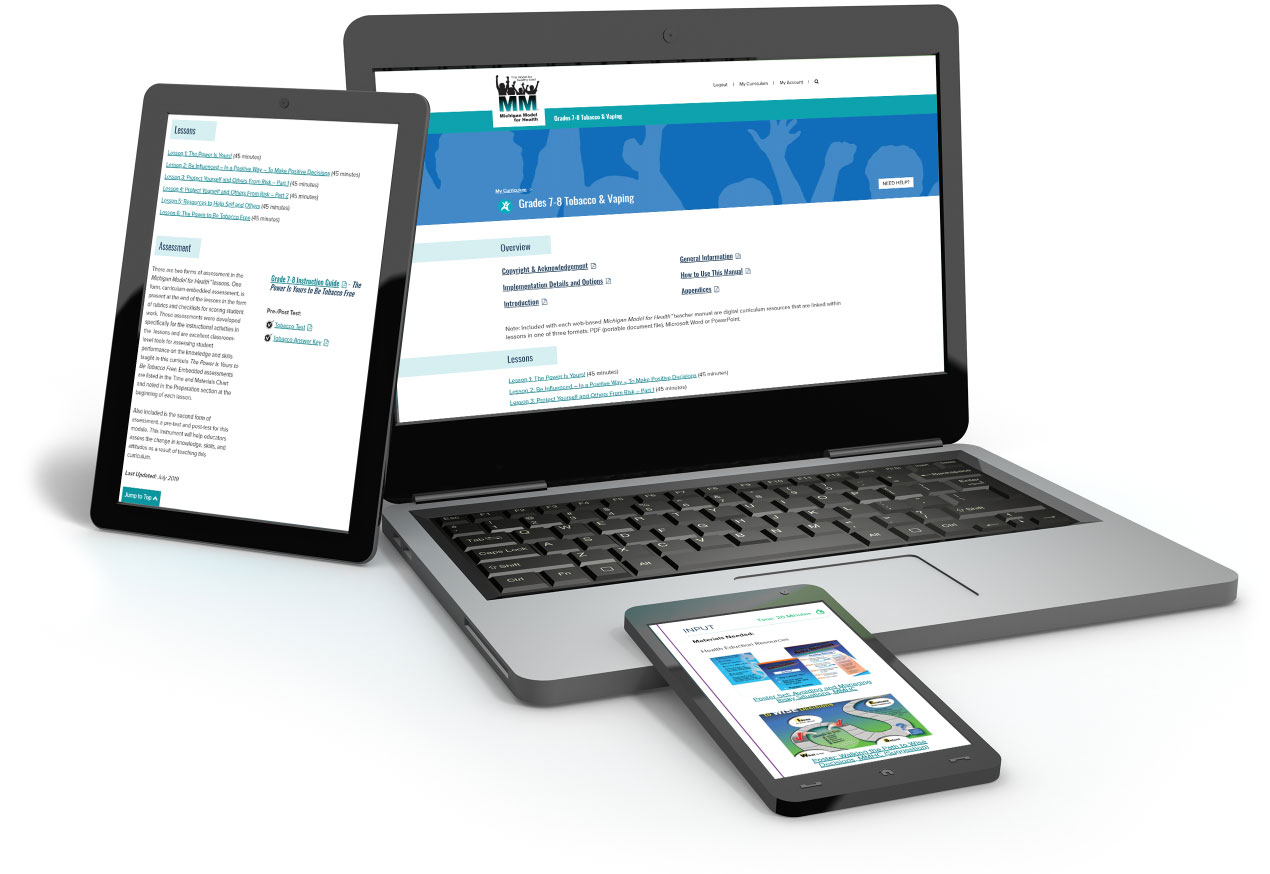 The Michigan Model for HealthTM meets CASEL's program design criteria:
Shows a positive impact favoring the intervention group on a nonbehavioral outcome such as attitudes (e.g., feelings of connectedness to school) or a specific social or emotional skill (e.g., emotion recognition or decision-making).
Includes a significant outcome that favors the comparison group on an outcome that is substantively important to the program's theory but the program has an additional qualifying evaluation with an independent sample that demonstrates positive effects.
CASEL Competencies
The health standards, skills, and topics taught in Michigan Model for HealthTM (MMH) and the Social Emotional Learning (SEL) Competencies put forth by the Collaborative on Academic and Social Emotional Learning (CASEL) are tightly aligned. The five SEL competencies are foundational competencies students and adults need to achieve social and emotional learning mastery. The MMH and CASEL Alignment Guide provides an overview and detailed alignment across the K-12 curriculum by grade level, topic, learning objective, and standards to the SEL Competencies and their key indicators.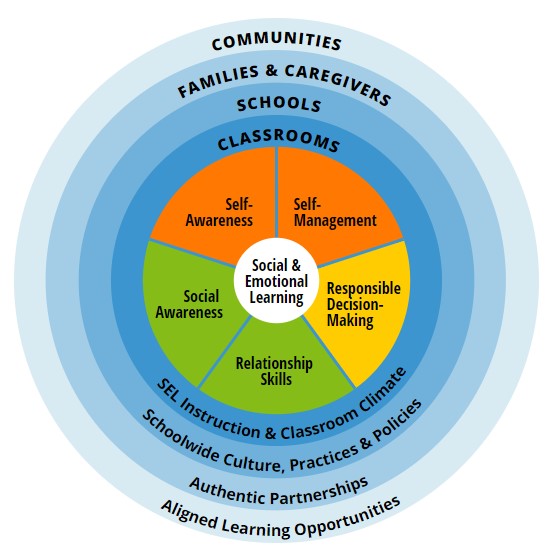 Collaborative for Academic, Social, and Emotional Learning (CASEL) Framework Wheel
Self-Awareness - The ability to accurately recognize one's own emotions, thoughts, and values and how they influence behavior. The ability to accurately assess one's strengths and limitations, with a well-grounded sense of confidence, optimism, and a "growth mindset".

Self-Management - The ability to successfully regulate one's emotions, thoughts, and behaviors in different situations – effectively managing stress, controlling impulses, and motivating oneself. The ability to set and work toward personal and academic goals.


Social Awareness

- The ability to take the perspective of and empathize with others, including those from diverse backgrounds and cultures. The ability to understand social and ethical norms for behavior and to recognize family, school, and community resources and supports.

Relationship Skills - The ability to establish and maintain healthy and rewarding relationships with diverse individuals and groups. The ability to communicate clearly, listen well, cooperate with others, resist inappropriate social pressure, negotiate conflict constructively, and seek and offer help when needed.


Responsible Decision-Making

- The ability to make constructive choices about personal behavior and social interactions based on ethical standards, safety concerns, and social norms. The realistic evaluation of consequences of various actions, and a consideration of the well-being of oneself and others.
About MMH
The Michigan Model for HealthTM (MMH) is an evidence-based, comprehensive health education curriculum for Pre-K through 12th grade students, utilizing a skills-based approach. The curriculum teaches students the knowledge and skills they need to build and maintain healthy behaviors and lifestyles. Age-appropriate and sequential lessons focus on the most serious health challenges school-aged children face.