The New and Improved Michigan Model for Health
2021-10-05 10:18:00 News & Articles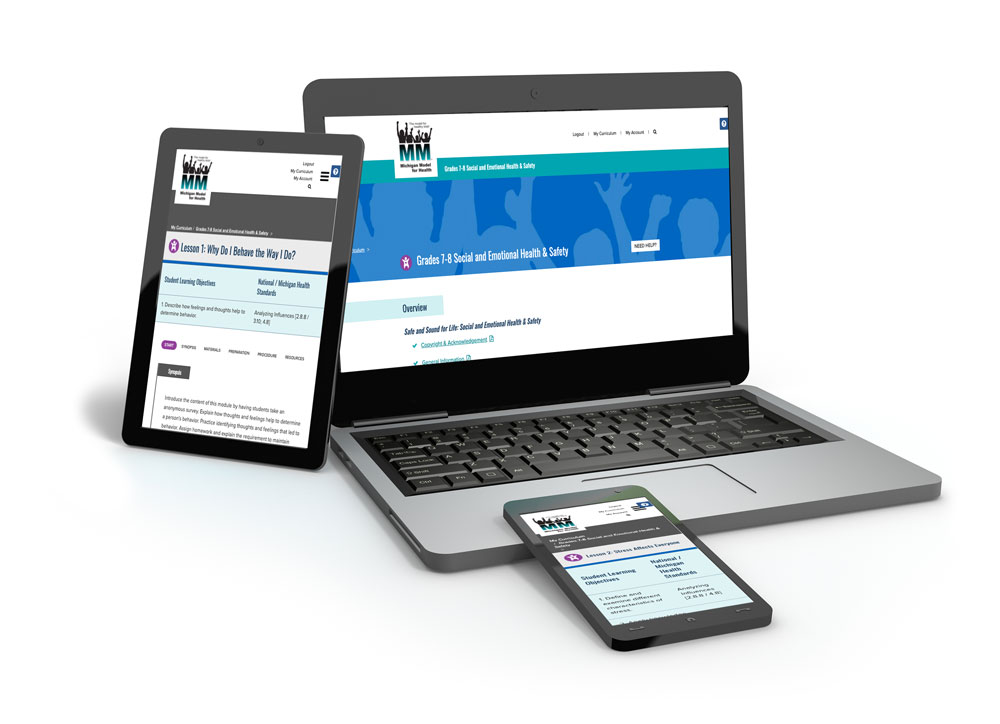 The Michigan Model for Health™ has been a mainstay in comprehensive health education curriculum for schools in Michigan that has been around since 1984, but it is not your teacher's version of the curriculum (remember the dark blue binder) or even the version you may have taught in your days as a teacher. The MMH curriculum has stood the test of time through a continuous improvement process led by Michigan Department of Health and Human Services (MDHHS) and Michigan Department of Education (MDE) in collaboration with other state agencies, education associations, and universities in Michigan.
The MMH (K-12) curriculum has stood the test of time through a continuous improvement process...
The MMH curriculum is now available in an online format compatible with mobile, tablet and desktop computers featuring web-based lessons, online resources for teachers, embedded streamed videos and more. It is one of the top five strategies in the state for social and emotional learning in Michigan schools and it is recognized by CASEL as an evidence-based SEL curriculum. The MMH curriculum was recently updated to address urgent health issues impacting students including opioid misuse, vaping and marijuana as well as issues concerning personal safety for elementary age children.
Perhaps the strongest feature of the MMH curriculum that differentiates it from other evidence-based curricula is the statewide network of support for training and technical assistance to Michigan schools and teachers. This network of School Health Coordinators is local and teachers and administrators get to know and work with their coordinator on a more personal level.
Lastly, the MMH curriculum is equitable in that it supports all students and is available to all schools in Michigan at a very low and potentially no cost. For more information about the new and improved Michigan Model for Health™ go to https://michiganmodelforhealth.org.
Article Featured in MEMSPA Weekly Update through Michigan Elementary & Middle School Principals Association
Author: Steve Sukta, former School Health Education Coordinator, Michigan Department of Health & Human Services
The Model for Healthy Kids
The Michigan Model for HealthTM is a nationally recognized, research-based comprehensive and sequential Pre-K through 12th grade health education curriculum. The MMH curriculum aims to give school-aged children and youth the knowledge and skills needed to practice and maintain healthy behaviors and lifestyles. It provides age-appropriate lessons addressing the most serious health challenges facing school children and youth.
Contact Us
Request MMH Training
Refer to the MMH Training page to request curriculum training in Michigan or out of state.
Order Curriculum
For further information, please contact the following MMH Program partners.