Elementary (K-6)
The Michigan Model for HealthTM (MMH) facilitates learning through a variety of interactive teaching and learning techniques. Skill development through demonstration and guided practice is emphasized resulting in the development of positive lifestyle behaviors for students and families.

The MMH Curriculum is designed for teachers and educators to implement as a component of the core school curriculum, with each of the lessons lasting 15-45 minutes in length. Furthermore, some lessons include activities to facilitate parental and family involvement beyond the classroom. The curriculum can be implemented in public, private, or alternative schools.
Michigan Model for Health™ Elementary (K-6)
The Michigan Model for HealthTM Elementary Curriculum (Grades K-6) addresses the major youth health risk behaviors identified by the Center for Disease Control and Prevention (CDC). The elementary curriculum is organized as seven modules by grade level and covers the following six main health topics with age-appropriate content per grade. Each grade level curriculum module consists of one teacher manual with fully-scripted lesson plans, teacher resources, and support materials.
The Michigan Model for HealthTM Grades K-6 curriculum is available in digital and print formats by grade level module. The curriculum is developed with user-friendly instructions to help teachers prepare to teach the lessons in each unit. All lessons are formatted similarly to include: lesson objectives and correlation with National Health Education Standards, time and materials chart, preparation tasks, tips, and lesson procedure.
The Michigan Model for HealthTM elementary curriculum is a CASEL SELect Program recognized for Grades K-6. The evaluation supported evidence of program effectiveness with the outcome of increased positive social behavior, reduced conduct problems, and substance abuse prevention.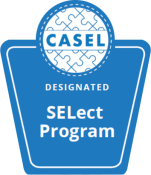 Digital Curriculum
The Michigan Model for HealthTM elementary digital curriculum format includes HTML lessons that are mobile-friendly with integrated links to streamed videos and online teacher resources.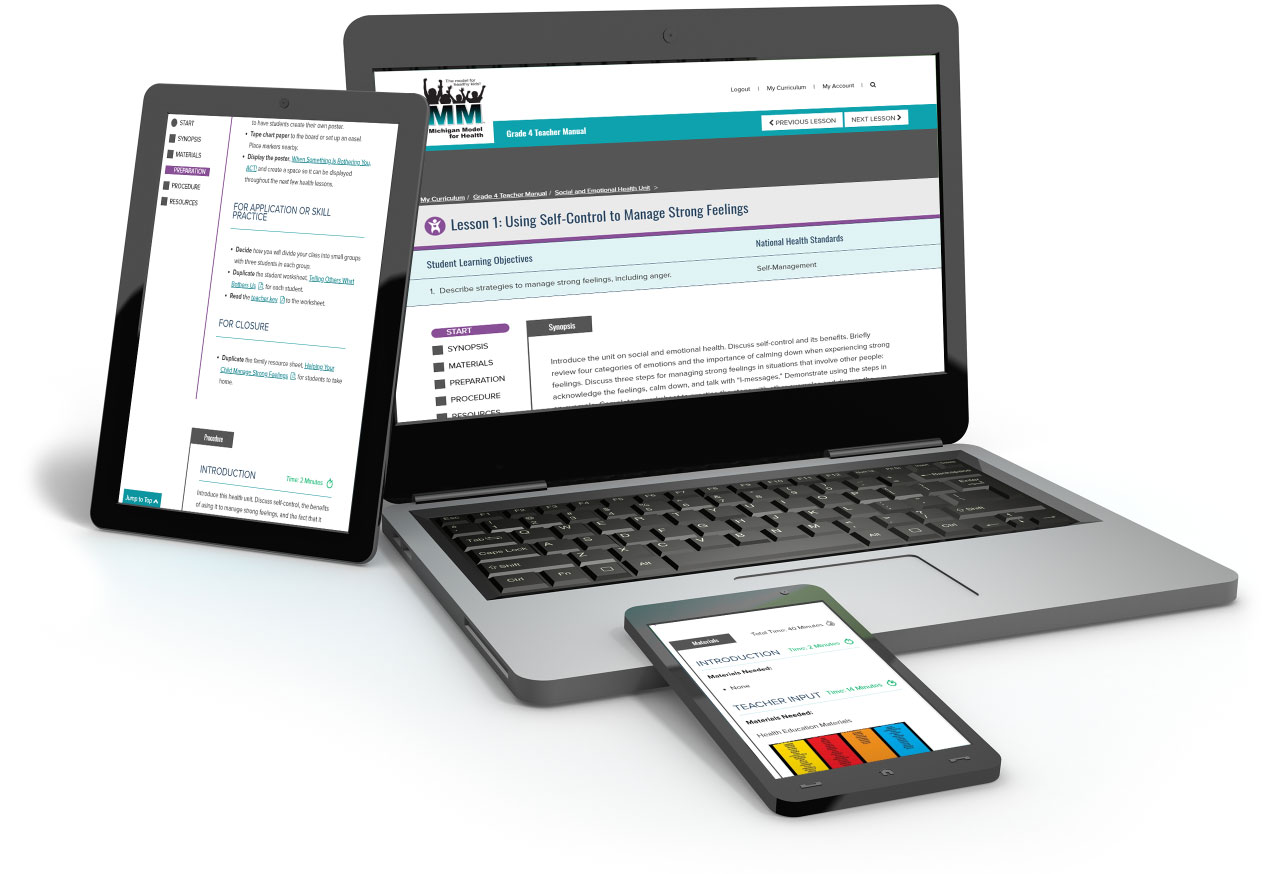 Print Curriculum
The Michigan Model for HealthTM elementary print curriculum format includes a three-ring print binder and a travel flash drive of electronic teacher resources.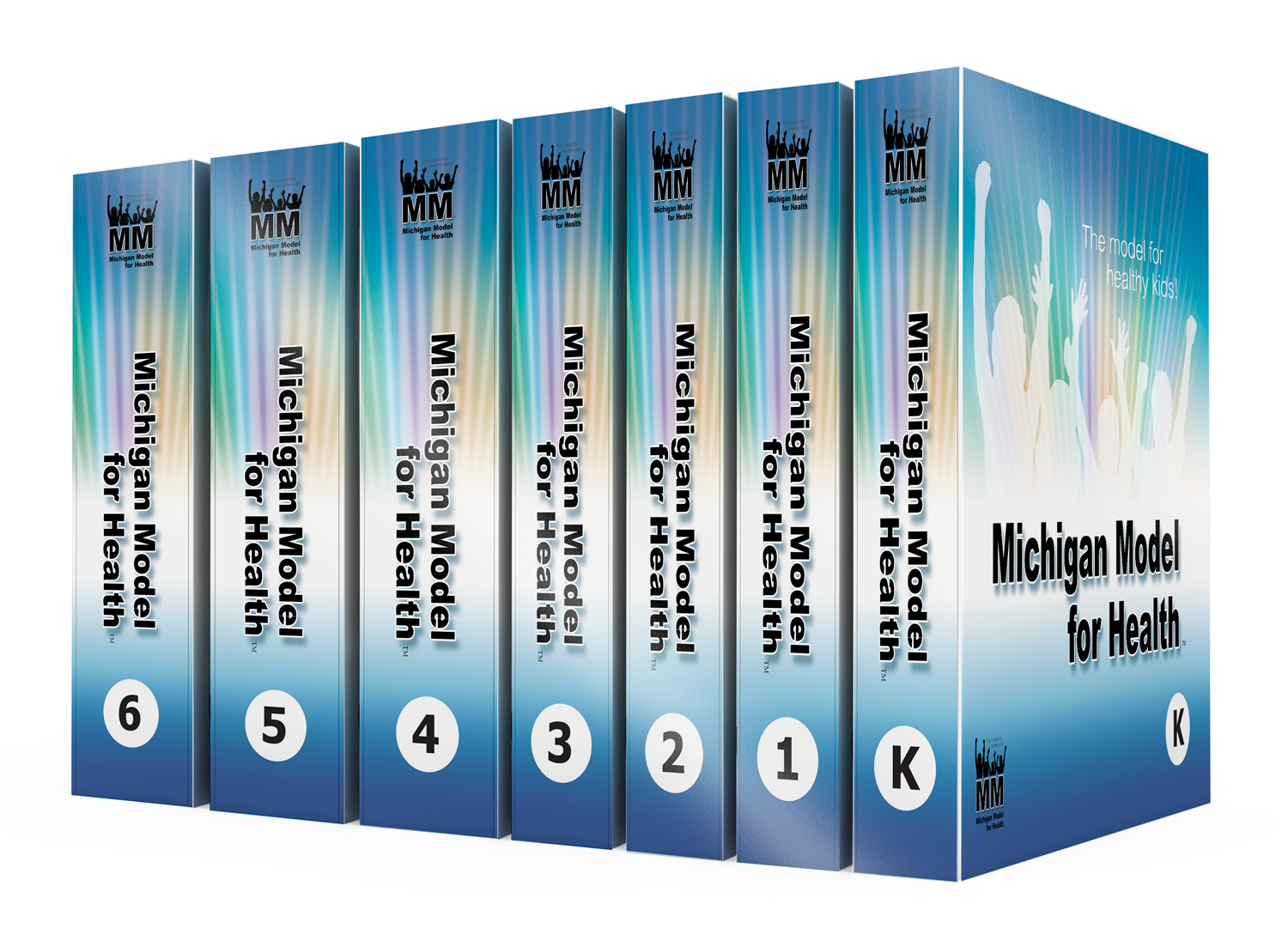 Teacher Resources
streaming videos
student worksheets (available in Google and PDF)
pre-/post-assessments (available in Google and PDF)
teacher keys
teacher references
family resource sheets
teacher slides (available in MS PowerPoint and PDF)
assessment rubrics and/or checklists (available in MS Word and PDF)
website resources
Hands-on Support Materials
Instructional, hands-on support materials are used to complete lesson activities and they are organized per grade level K-6 which can include: attractive full-color laminated posters, colorful bulletin board sets, game and activity card sets, informational pamphlets, books, models and DVD videos. Complete grade level kits can be purchased or materials can be purchased separately.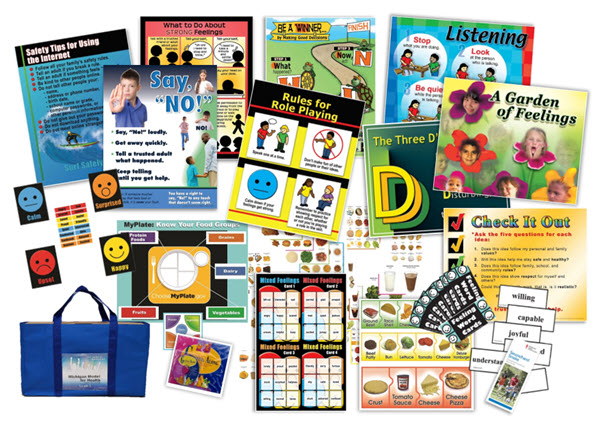 Purchase MMH Curriculum & Support Materials
The elementary curriculum can be purchased individually by grade level or within digital curriculum bundles. School-wide and district-wide pricing discounts may also be available. To purchase MMH curriculum, Michigan educators, contact your School Health Coordinator and out-of-state educators, contact the Michigan Model for Health Clearinghouse. To view the MMH Elementary curriculum and support materials, click on the following grade level button links: